S & T Notes - issue 201
SIGNALLING NOTES - Chris. Hall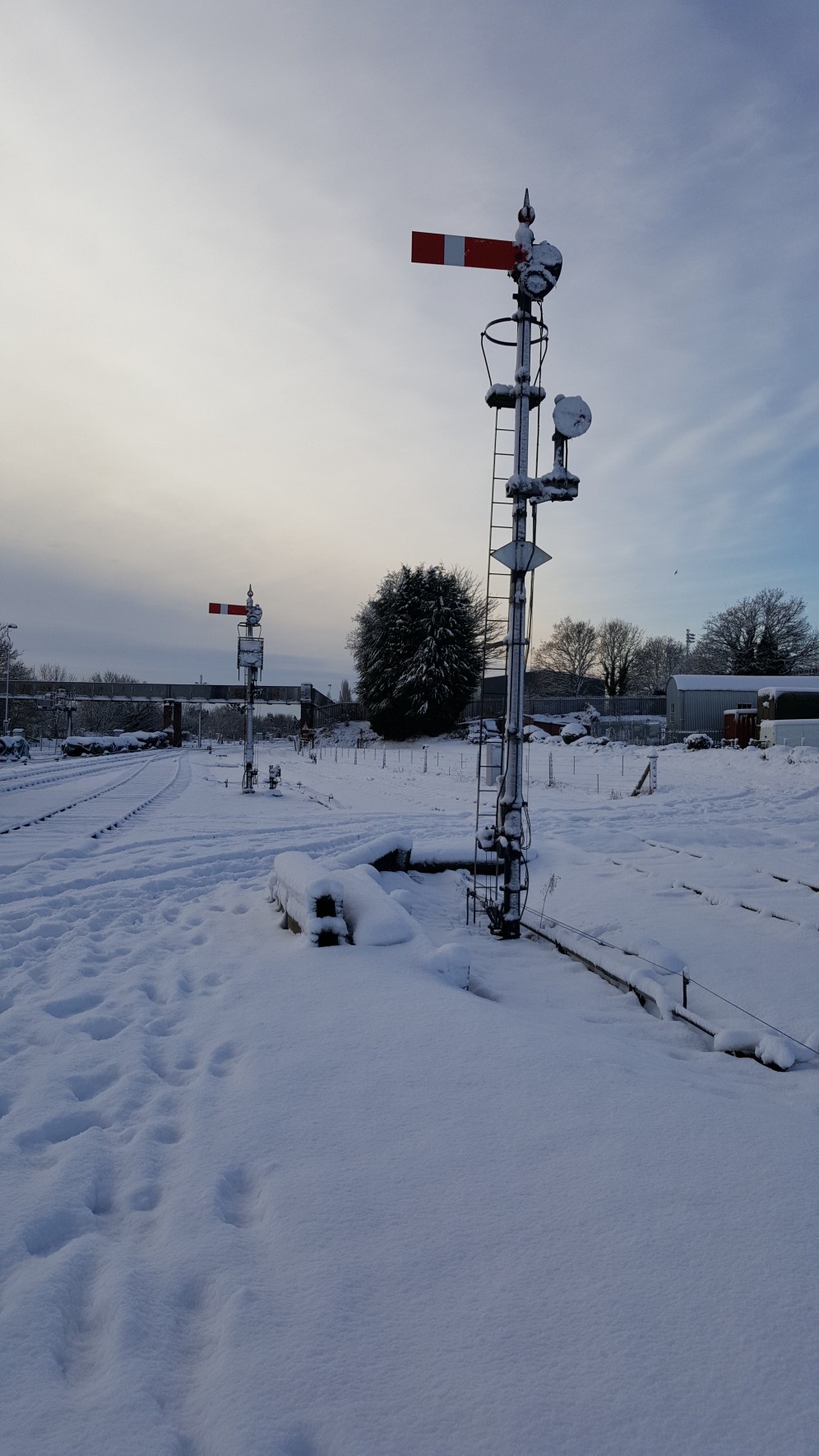 Kidderminster in the snow on 11th December - the power was off at Arley and the snow too deep - trains cancelled! [Photo: John Smith]
The problems with the track circuit indications between Bewdley South Down Distant and the signal box were diagnosed shortly after the last issue went to press: the 27-core signalling cable between the Up Starting and the Down Home signals will need to be replaced (some 470 yards). We will probably attempt to do this during the mid-week non-running period in March this year, at a cost of a couple of thousand pounds plus the hire of a trenching machine plus the usual 'free' labour. This section of cable is over thirty years old and was transported to Hong Kong and returned to Great Britain before it was sold to us at a very substantial discount in the early 1980s so we cannot really complain that it has finally started to produce intermittent faults. The existing cable route has been 'cat-scanned' and marked out so that we have a fair chance of using a trenching machine without damaging the existing 110V power cable.
The Bewdley South Down Home signal lamp was reported as not working during November. This fault would normally be repaired as soon as we could get out there with a set of ladders to investigate (the signal does not have a fixed ladder as it is in an area prone to vandalism). Unfortunately there were two coincident faults - the lamp repeater in the box was stuck at 'LAMPS IN' and there was a loose wire on the lampholder on the signal. Before attending such a fault we would normally ask the Signalman whether he could obtain a 'LAMPS IN' indication by turning the lamps on in the box. We would expect the Signalman to confirm correct operation of the signal lamps by checking that the bell sounded and a 'LAMPS OUT' indication was given when testing the lamp repeater, returning to bell silent and 'LAMPS IN' when the test switch on the repeater was released. The failure of the lamp repeater had not been reported, leaving us to record that the fault had cleared. A Driver mentioned that the fault was still present on Sunday 19th November and so we took some ladders out to investigate which revealed three separate faults, which were all fixed that day.
We have manufactured five brand new token carriers (the sixth casting cracked during machining and had to be rejected) after some difficulties caused by the cast aluminium work hardening during machining. Three of them posed in the sun for a photograph before being put into service.
New token carriers posing in the sun. [Photo: Tony Neath]
Highley's Down Distant signal has been replaced by a new metal post signal, commissioned on 13th November, with thanks to the P-Way Department for the services of Dave Evans and a large road-railer machine.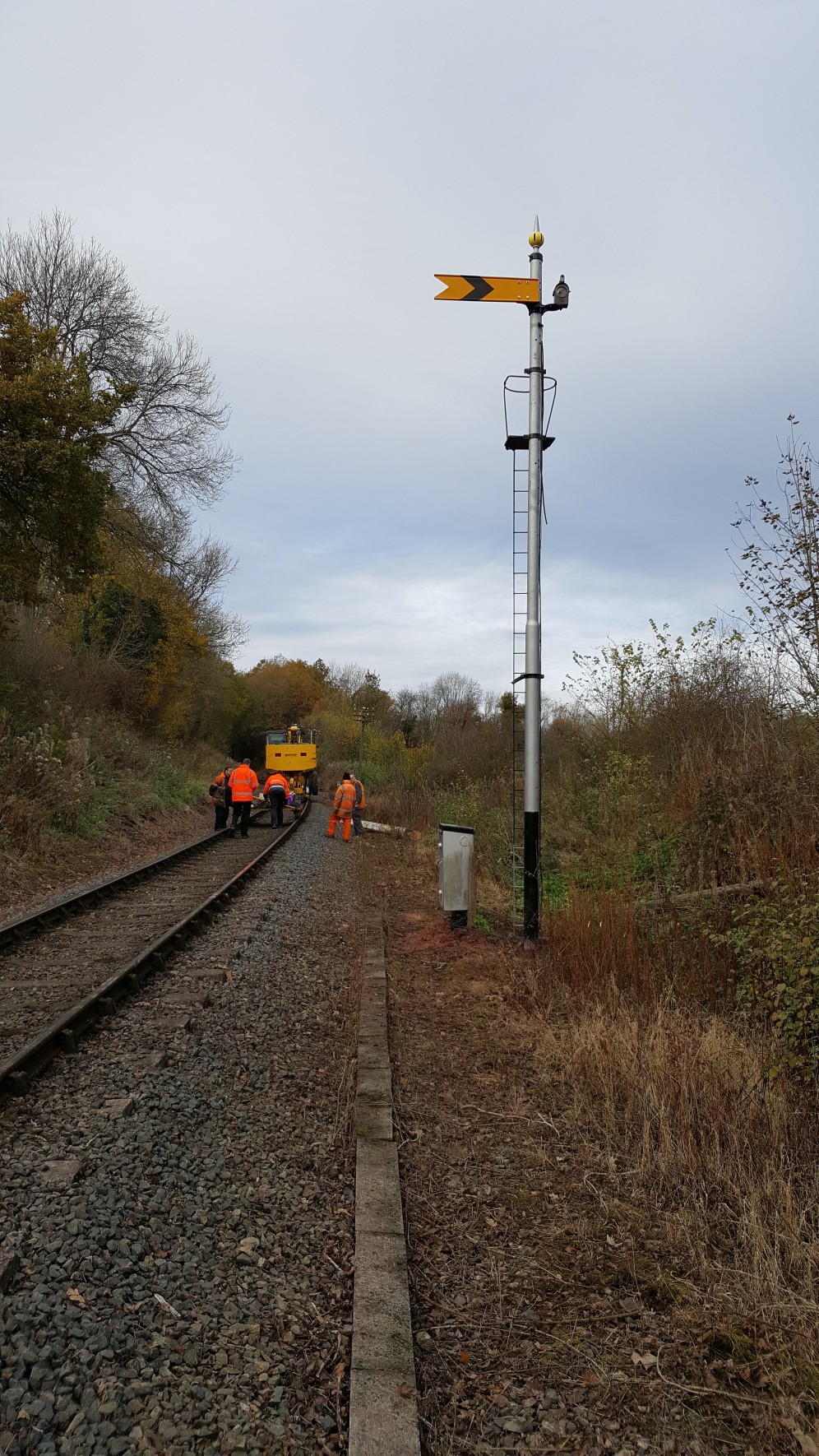 The new Highley Down Distant signal on 13th November - work complete (apart from connecting up and adjusting the lamp). [Photo: John Smith]
Northwood Crossing was reported to be maintaining red road lamps after passage of a Down train (until timing out) - this would hold up road traffic after the train had passed - and a small part in the relevant 'strike out' treadle was found to be broken. The treadle was replaced and correct function restored.
A small piece of the brown insulating sleeve has broken off inside the treadle. A replacement was fitted so that we could repair it. [Photo: Tony Neath]
We were called to another fault at Highley - Signalman unable to clear the Down Starting signal after removing a token. The circuit here passes through both token machines so a little fault finding was called for: this showed that the voltage on the block relay coil was correct but the coil itself was open circuit. This cannot be repaired in situ so it was referred back to the paid staff for replacement during the week. After removal the coil was examined and found to have an intermittent fault where the two coils were connected together and will probably have to be rewound.
At Arley our routine maintenance brought to light that the facing point lock (FPL) bat ar the north end points (no. 17) had broken, a length of about a yard being detached from the bar. We made up some fishplates and effected a repair during January. We just managed to get enough extension leads to provide a 110V supply that far from any building so that we could drill the existing bar in situ. We had made arrangements to have the token available so that we could unlock the frame to work the FPL lever to confirm that the repair had been effective.
The FPL bar at the north end of Arley, after repair on 7 January 2018. [Photo: John Smith]
We now have most consumable parts in stock, including facing point lock stretchers, cranks, compensators, point rodding, signal box levers and frame components, signal lamp cases and ladders, but there are still a few things such as point motors, signal machines, and point roller castings where we are less well provided. The maintenance schedule which ensures that we carry out and record routine maintenance and testing of the signalling equipment has brought the incidence of faults on the equipment down to a very small figure. A few of the faults during 2017 have proved difficult to diagnose and rectify (especially at Bewdley South) leading to some degraded working (e.g. use of Pilotmen) but the equipment is of fail-safe design and the fall-back procedures robust.
We have dug in an extra stay-wire to Bewdley North's Up Inner Homes bracket which should allow us to bring the signal more precisely to the vertical.
The difficult bit (digging a hole to bury the large concrete disc which takes the strain) is, as usual, now invisible. This is the new stay wire for Bewdley North Up Inner Homes bracket. [Photo: Tony Neath]
By chance two signal wires which had been broken for some time came to our notice, neither of which had been reported on our 'fault line' - they were repaired within days.
Looking ahead to our work programme over the next year or so, we have quite a lot to do, much of which is dependant on action by others:
Bridgnorth - rewire signal box;
- renew cranks & compensators north of the box (after P-Way work);
- renew FPL stretcher on 12 points (after switches are renewed);
Highley - renew Down Starting signal;
Arley - replace round rodding once it becomes life expired;
Bewdley North - refurbish rodding run to 6B points after renewal;
Foley Park - install ground frame and controls once siding laid;
Kidderminster - renew platform 1 starting signal with a bracket signal.
A final reminder that this article, as well as other information on Signal Engineering, can be viewed in full colour here on the unofficial Signal Engineering web site.
issue 200 -- return to main page -- issue 202