A record attempt in October 2013 shows 270 stations.
Practicalities
The rules were tightened up in the 1960s to prohibit the use of private transport to visit a station - the use of a cycle or car to get between stations had caused some ambitious attempts to reduce the time taken to nearer 16 hours. At least one of the arrival or departure at a location must now be by train. Public transport is still allowed between locations but the preferred method now seems to be an undignified sprint making the task more brawn than brain. I have offered a number of methods to transfer between obvious locations such as Cockfosters to High Barnet, Edgware to Stanmore, Uxbridge to West Ruislip, as well as Snaresbrook to Walthamstow and Ongar to Roding Valley. This makes the simulation a well-defined quest.
With sparse services at the extremities of lines: Amersham had a half hourly electric service and an hourly service to Marylebone; 12 or 15 minute intervals were commonplace - Epping had a 20 minute service, as did the Woodford-Hainault section and some sections with a peak only service, deciding at what time of day to do the different parts could be very important. Ongar had only an hourly service in the off peak. Nowadays there seems to be a frequent service everywhere!
Starting early is a sensible decision - in November 1989 the first train was from Terminal 4 (0457) closely followed by Upminster (0502) so they were favourite starting places. My best (virtual) attempt was 17 hours and 4 minutes shown here: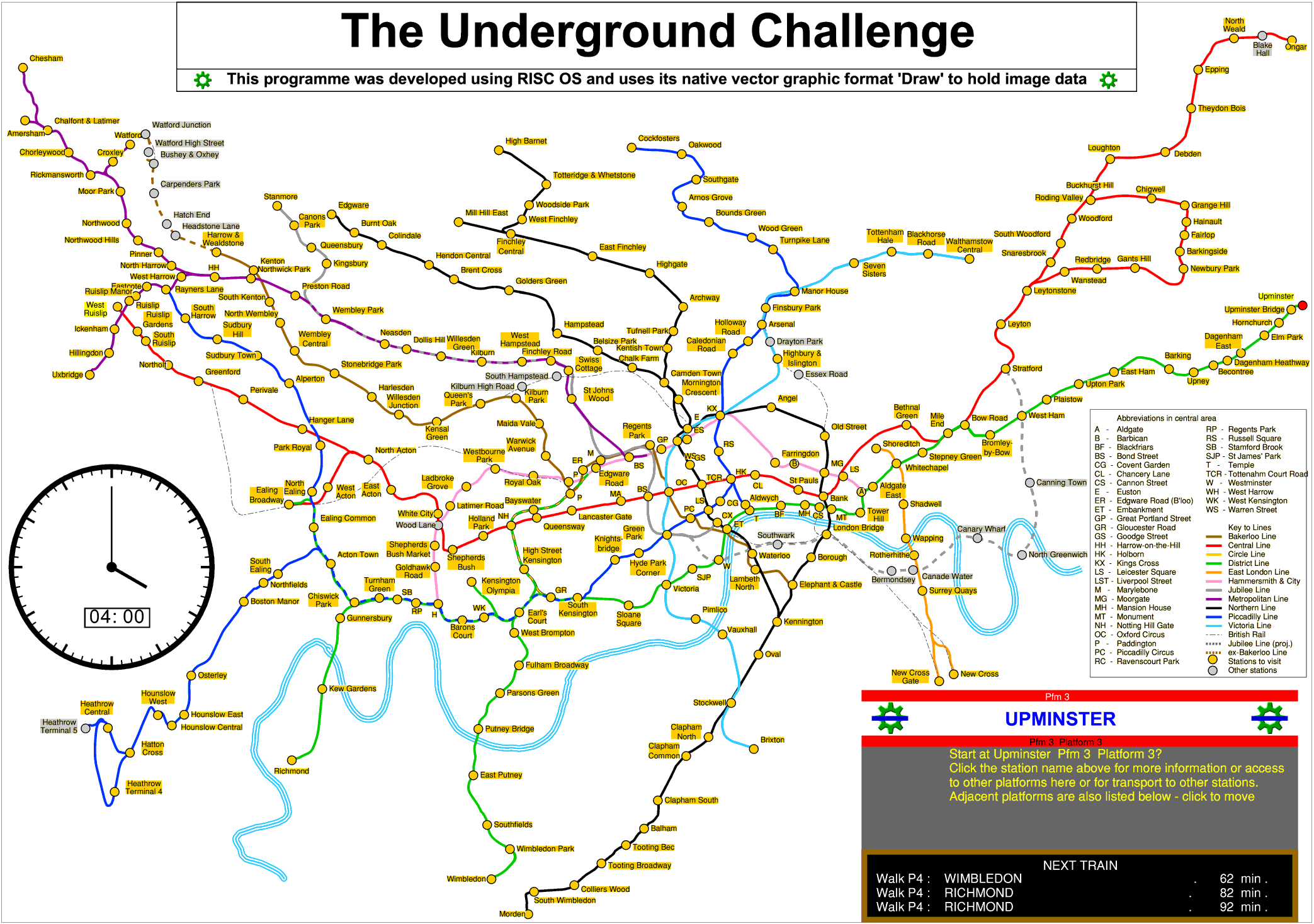 This is an animated gif file which shows the virtual journey and the timings. It starts at 0502 and finishes at 2206.
A detailed log of this journey is given. It includes the line between Harrow & Wealdstone and Watford Junction and between Old Street and Highbury (including Highbury to Finsbury Park as well would risk a connection for the hourly train to Ongar). Both stations at Elephant & Castle are visited but Hammersmith (H&C) is not visited to avoid missing a connection at Kensington Olympia and, subsequently, Aldwych. The visit to Amersham and Chesham is carefully arranged in the off peak shoulder to get reduced waiting times. A car is assumed to make quick hops as necessary. Since then I have refined this to start slightly later from Upminster (at 0522) but finish at the same time (2206) if I include the line from Harrow & Wealdstone to Watford Junction but at 2200 if I omit it. This journey breaks down into a total travelling time of 11 hours 44 minutes, with 97 minutes spent on inter-station transfers (some walking and some by car or bus), 42 minutes walking inside stations, 155 minutes waiting on the platform for a train, making a total elapsed time of 16 hours and 38 minutes.
The Jubilee line extension is shown dotted to indicate that in November 1989 it had not yet been built. The lines are shown in their correct geographical locations but the scale has been expanded in the central area to show the necessary detail - some areas are accordingly stretched horizontally or vertically. Even so, a few station names have had to be abbreviated.
Some unusual services
Services from the Metropolitan District Railway to Windsor on the GWR via their junction at Ealing Broadway ran for a couple of years long before LT was formed. GW suburban trains from Windsor, Greenford and Uxbridge Vine Street were hauled over the Hammersmith & City Line between Paddington and Liverpool Street by Metropolitan electric locomotives until 1939 but were not featured in LT publicity material as LT services and the GW suburban lines from Paddington to Windsor are thus excluded. District & LMS services ran over the Middle Circle from Latimer Road to Addison Road (Kensington Olympia) until 1940 and were shown in LT publicity material as LT services: such services are, however, only a memory and are thus excluded. Outer Circle services provided by the District and LMS ran over the North London Line and the West London Line, continuing to Addison Road and Earls Court. By 1937 these ran between Earls Court and Willesden Junction and were treated as LMS services in LT publicity material and so the West London Line is excluded. District Line services east of Whitechapel started in 1902 when the Whitechapel & Bow Railway opened but ceased in 1905 with electrification to Whitechapel. Through running to Upminster resumed in 1932 and by 1937 LT publicity material showed four daily through services (one on Sundays) from Ealing Broadway to Southend and Shoeburyness. These were hauled by District Line electric locomotives to Barking and steam-hauled further east by LMS locomotives. Although shown on LT maps until 1941, services east of Upminster ceased in 1939 and the LTSR lines east of Upminster are therefore excluded.
Lines owned by the Metropolitan Railway are generally included but Verney Junction in the north is excluded as through Metropolitan Line services to Verney Junction ceased in 1936 and those that ran to Quainton Road were curtailed to Aylesbury in 1948 and Amersham in 1961.
The Waterloo & City Line became part of London Underground in 1994 (and was shown in publicity material from much earlier) and may be regarded as being included but makes no difference to the record as Waterloo and Bank are already included. Although the line from Queens Park to Harrow & Wealdstone and Watford Junction was never LT-owned, it saw regular and frequent Bakerloo Line services from 1917 until 1965, services north of Harrow ceasing in 1982.
One thing that was very different to today is that off peak traffic was so light that uncoupling and coupling of units was routinely performed as late as 1965 on the District Line at Upminster, Parsons Green and Ealing Broadway (eight car trains reduced to six for off peak and evenings). Locomotive hauled passenger trains ran until 1961 on the Metropolitan Main Line between Liverpool Street and Aylesbury. Electrification had reached Ongar by 1957 and Amersham by 1961.
Services on the South Acton and Aldwych branches were discontinued in 1959 and 1994 respectively and between Epping and Ongar in 1994. Through services north of Queens Park ceased in 1982, resuming to Stonebridge Park (where a new depot was built) and Harrow & Wealdstone by 1984. Through services beyond Amersham ceased in 1961. The Victoria Line and the first part of the Jubilee Line from Baker Street to Charing Cross opened in 1968 and 1979 respectively. The Northern City line (originally part of the Metropolitan Railway) was transferred to British Rail in 1975 to be used as part of the Great Northern Electrification. London Regional Transport was created in 1984 and was under direct state control. In 1985 London Underground became a wholly-owned subsidiary of LRT. The Docklands Light Railway (DLR) opened in 1987 as a separate wholly-owned subsidiary of LRT and was included as part of the LT Travelcard system. The parallel Capitalcard scheme which included British Rail lines was subsumed in January 1989. DLR was not branded as an Underground line until after 1994 and is therefore ignored. On privitisation of British Rail in April 1994, the Waterloo & City line was transferred to London Underground.