S & T Notes - February 2022
SIGNALLING NOTES - Chris. Hall
On 28 January the last coat of paint was applied to the new signal post, which was now in the car park at Bewdley. On 30 January we removed the poly tunnel by gathering a few willing volunteers and lifting it bodily over the signal post out of the way. We checked that the studs would fit through the holes, which were now a little full of paint. Given that the holes were drilled from each side and only just met, there was a hour or two of careful drilling! The rear half of the bracket steelwork, which is to sit on top of the post was lifted onto a couple of wooden packing pieces and carefully manoeuvred into place. The painstaking work over the last few months to drill holes in the right place now paid off. After a break for lunch in Bewdley buffet, we lifted the bracket into place - with gravity on our side, we were able to engage the spigot into its hole and there was only a gap of about 10mm. A little wriggling and the steelwork dropped to rest on the post.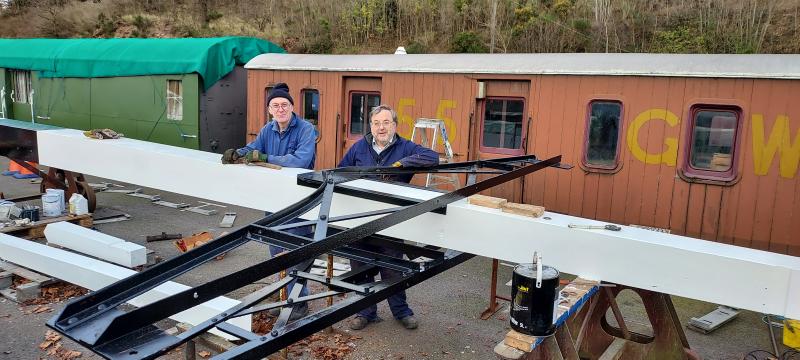 By 1400 on 30 January we are able to admire the steelwork sitting in the correct position on the post. The front half of the steelwork is sitting beneath the post ready to be lifted into position - this time with gravity not on our side! Photo: P. Marshall
Carefully lifting one end at a time and packing it we got the lower half in the right place so that we could lever the bottom end onto the two ¾″ studs that we had dropped into the holes, persuaded by a hammer. With the steelwork about 1″ below where we wanted it we could get a nut onto the end of the stud whilst levering the steelwork into place. The top of the steelwork was then levered into place and the other two studs could be seen protruding through their holes - two more nuts and we could jack the steelwork up into place.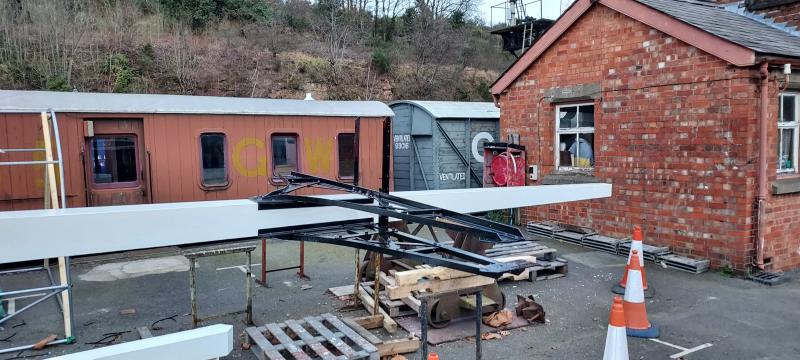 By 1640 on 30 January both halves of the bracket steelwork are fixed in place and two of the supports for the timber decking have been fitted. Photo: P. Marshall
issue 217 -- return to main page -- recent work (this page)